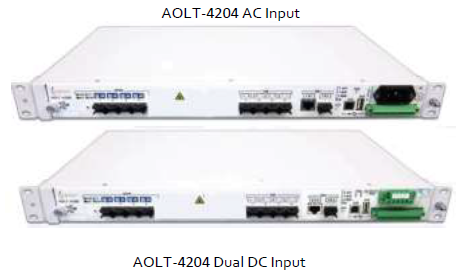 The AOLT-4204 series of GPON OLTs supports eight GPON OLT ports, two 10GE/1GE ports and four 1GE ports. They are1RU high and mounted in standard 19" racks or wider racks using adapters. The compact design, low power consumption, 99.99 Percent High Availability, extended operating temperature range and alarm inputs facilitate remote deployment where rack space is limited and ambient environment is harsh.
Applications
The AOLT-4204 serves many markets such as Telecom, cable TV, Large institution campus and apartment complex networks,providing premium triple-play broadband access data, voice and video services. The high port density and energy efficiency allow service providers to save on both the equipment cost and the operation cost. At up to 128 optical splits, each AOLT-4204 supports up to 512 ONTs/ONUs. Multiple AOLT-4204 units can be networkedtogether to serve much larger number of subscribers over shared uplinks.
Standards
The AOLT-4204 design takes advantages of the latest switching technologies. The full compliance to BBF TR-156 facilitates the support of sophisticated network configurations. By complying with the FSAN/ITU-T GPON standards, the AOLT-4204 achieves interoperability with a wide range of GPON ONTs.
Flexible Management
The The AOLT-4204is managed with either Alphion Element Management System (AEMS) that supports auto-discovery of OLTs and ONUs/ONTs and provides configuration, profile based provisioning, event and fault management and performance monitoring via its Mulitple Privileged CLI or with a 3rd party NMS via its northbound interface
Security
Layer 1 to 4 packet filtering (ACL)
DHCP packet filtering and relaying
Broadcast/multicast/DLF packet limit
Port flooding guard for abnormal traffic
Loop Detection on Uplinks
Alarm and Auxiliary Contacts
Powering
Single AC or Dual DC power inputs
For your sales enquiries and detailed technical information - please contact: Alphion India @
+91 44 43455638, 43455626 or email us at: sales@alphion.in