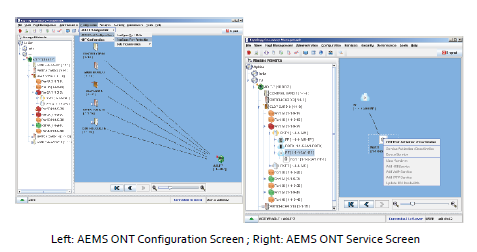 Applications
The AEMS is a full featured Element Management System that is used to provision, configure and manage Alphion's portfolio of FTTx products.
Scalable Architecture
The AEMS is based on a J2EE three tier architecture with customized functions running on Solaris 10 or Linux.
Flexible Management
AEMS provides a graphical, geographical, hierarchical, and domain based view of the AOLT-4000 series based and AOLT-4200 series based network elements (NEs) and the interconnecting links. The visual maps display the NEs and the links in different colors depending on their status, with green indicating healthy status, amber/yellow indicating degraded condition, and red indicating a critical alarm condition. AEMS' network view facilitates simplified configuration, fault, and performance management by allowing the operator to zoom in from a domain, sub-network or ring level down to a port in one of the cards in a NE.
Comprehensive Network Monitoring
AEMS auto-discovers and notifies in real time the insertion and removal of any physical card in an NE or of an ONU/ONT to FTTx network. It also reports the usage of card resources and keeps track of network inventory, reporting changes in chronological order.
For your sales enquiries and detailed technical information - please contact: Alphion India @
+91 44 43455638, 43455626 or email us at: sales@alphion.in