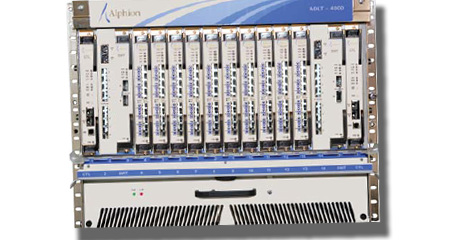 Applications
The AOLT-4000 is designed for Carrier Central Office or MSO Hub environments for enabling cost-effective FTTx services.
Flexible Configuration
Two control card slots for 1+1 Control cards. Two switch slots for 1+1 Aggregation switch cards with redundant 10-GbE and 1-GbE Service Node Interfaces (SNI) uplinks. Ten line card slots.
Data Plane Connectivity
The AOLT-4000's data plane consists of redundant 10-GbE connections to each card slot from the two dedicated double-width AOLT-4000-SWT slots in the shelf.
The AOLT-4000 is managed with either Alphion Element Management System (AEMS) that supports auto-discovery of OLTs and ONUs/ONTs and provides configuration, profile based provisioning, event and fault management and performance monitoring via its Mulitple Privileged CLI or with a 3rd party NMS via its northbound interface
Switch Capacity
Dual star redundant architecture with 20 Gb/s bandwidth to each card slot and 400 Gb/s bandwidth total capacity.
AEMS or SNMP Managed
With the AOLT-4000-CTL card installed the AOLT-4000 is either remotely or locally managed from either Alphion's Element Management System (AEMS) or with a 3rd party EMS using SNMP or a legacy NMS.
For your sales enquiries and detailed technical information - please contact: Alphion India @
+91 44 43455638, 43455626 or email us at: sales@alphion.in