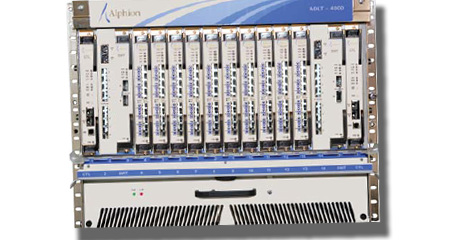 The AOLT-4204 series of GPON OLTs supports eight GPON OLT ports, two 10GE/1GE ports and four 1GE ports. They are 1RU high and mounted in standard 19" racks or wider racks using adapters. The compact design, low power consumption, 99.99 Percent High Availability, extended operating temperature range and alarm inputs facilitate remote deployment where rack space is limited and ambient environment is harsh.
Applications
The AOLT-4000 is designed for Carrier Central Office or MSO Hub environments for enabling cost-effective FTTx services.
Flexible Configuration
Two control card slots for 1+1 Control cards. Two switch slots for 1+1 Aggregation switch cards with redundant 10-GbE and 1-GbE Service Node Interfaces (SNI) uplinks. Ten line card slots.
Data Plane Connectivity
The AOLT-4000's data plane consists of redundant 10-GbE connections to each card slot from the two dedicated double-width AOLT-4000-SWT slots in the shelf.
The AOLT-4204 is managed with either Alphion Element Management System (AEMS) that supports auto-discovery of OLTs and ONUs/ONTs and provides configuration, profile based provisioning, event and fault management and performance monitoring via its Mulitple Privileged CLI or with a 3rd party NMS via its northbound interface