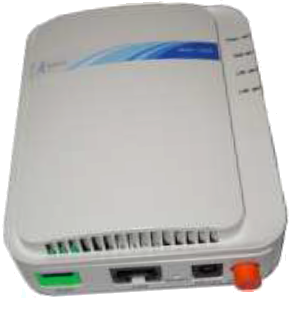 High Bandwidth GPON
The AONT-1501 is fully FSAN (ITU-T G.984) compliant with a 1.244 Gb/s upstream and 2.488 Gb/s downstream, Class B+ GPON system. In addition, it supports downstream AES (128-bit key) and downstream and upstream FEC RS(255,239).
Applications
The AONT-1501 is a compact GPON ONT designed and optimized to provide super fast data connection. The AONT-1501 has one 10/100/1000 BaseT port that can be used to provide high speed data, voice and video services. The AONT-1501 supports a wire speed data interface that supports advanced L2, L3 and VLAN features for providing rate and priority controlled high speed internet access. To enable VoIP access, AONT-1501 supports interfacing external IAD box or home router with voice capability through the Ethernet interface. AONT-1501 supports IPTV delivered in the form of data multicast or unicast.
Ethernet Quality of Service
The AONT-1501 has extensive Ethernet QoS features, including MAC flow control, DSCP to 802.1p mapping, upstream congestion control, and down- stream traffic scheduling for premium or time sensitive content. Intelligent and robust buffer and queue management for Ethernet traffic, with individual prioritizable queues, ensures that tiered residential service offerings based on different bit-rates and QoS can be supported.